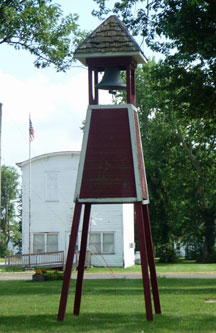 This small metropolis of 127 lies in the SW corner of Madison County and was incorporated in 1876.  City limits consist of of one (1) mile North and South; two (2) miles East and West.
Macksburg was named for Doctor J.H. Mack.  He donated the land for the town.  Dr. Mack was an early Pioneer coming from out East.
The J.D. Craven Women's Relief Corps #322 Auxiliary, was organized in 1898.  The building the women held their meetings in, WRC Hall, until 2002 is one of the National historical Registrar.  The building was sold in 2003 to a resident of the town.

Macksburg was the home of inventor-designer-manufacture of the Martin B-10 Bomber used in WWI, Glenn Martin.  He was born in 1886, in a house that is today located at 206 West Lincoln St. Glenn died in 1955.  His name has expanded to many other entities of the world.